Prayer Request
I know that I've been slacking on my blog friends ... sorry. There's been a lot going on at work, but I'll post on that later.
I need your prayers for my Dad. He has been diagnosed w/ stage 3 Non-Hodgkins Lymphoma. He consulted w/ doctors in Harrison, Little Rock, and Tulsa. He was even considering treatment in Mexico before he went to Tulsa, where he was really impressed w/ the setup. They have nutritionists, psychologists, pastors, massage therapists, homeopathy, etc ... In other words they treat the whole person and not just the cancer. It is a top-notch faith based research facility.
My Dad checked in on Monday 1/31 to start the chemo process and is supposed to be getting his first treatment today. The biggest dread he has is the damage to his heart and to his health once this is all over.
Please pray for Rodney Sr. that the chemo wont make him sick and that it wont damage his health and for the cancer to be destroyed. Please pray for my mom Ruth that she would be able to handle the stress of this.
The doctors at Tulsa give chewable CoQ10 3 times a day during chemo to minimize heart damage. They also use a new drug rituxan during each treatment (6 in all). Other doctors he saw only wanted to use it the first and last treatments. Only tumors with certain "receptors" benefit from rituxan and Daddy has those receptors, so I think it is smart to hit the cancer with all you've got while you can.
I love you Daddy and I know you're going to beat this !
Here's a pic of my Mom and Dad at our "40/80 party". It was their 40th anniversary and my Grandma's 80th birthday :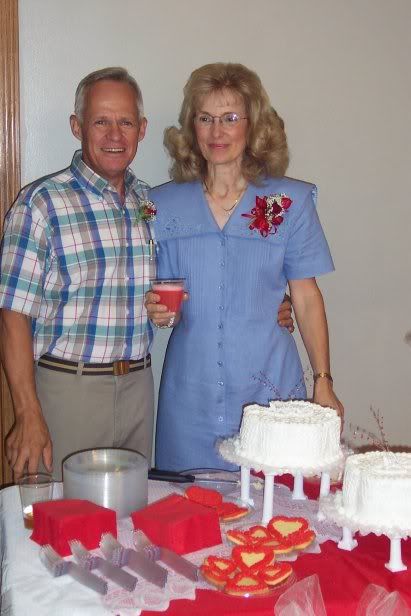 posted by iWantToKeepAnon at 4:25 PM |