My Sunday
On Sunday morning I volunteer at my church's preschool. It's a lot of fun, you get to play on the playground, sing songs, watch a puppet show, and eat snacks; what could be better? :)) The kids in my room are 5 years old and they're great kids.
Sunday afternoon I hooked up with a buddy from FBCE and hit the motorcycle show at the Dallas Convention Center (free parking for m/c riders). The show was great, tons of motorcycles. They had a ball of steel show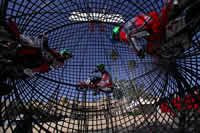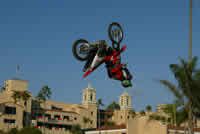 Very cool. They did this one stunt I'd not seen before. With 3 cycles running horizontally in the ball, one of them would drop down and speed up and pass the guy in front of him and then merge back into traffic. With such a small ball there's only a few feet and a split second between bikes, I thought this stunt showed their precision driving the best.
posted by iWantToKeepAnon at 7:16 PM |