Saturday ~ noon in RU
Just thought you might like to see what the weather has been like here in Russia: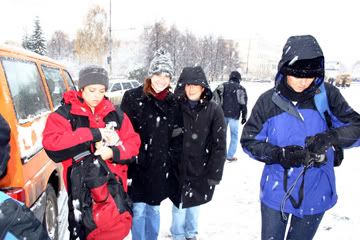 It started snowing on Tuesday and lasted until Thursday night; which is longer than they expected. On Friday, all the snow started melting and we had to hike in slush everywhere we went. So far today (Saturday), it looks like the temp is going to dip below freezing again, which means we will be getting around on ice once again.
BTW, (as some of the people on our team found out) if you visit Russia in the winter don't pack laceless Nikes or hard/flat-soled dress shoes. You'll be sliding on your backside more than walking. :-P
On Tuesday we were supposed to visit an orphanage but they had an outbreak of dysentery and quarantined the building. So we changed our plans and went to Ural State University instead.
On a typical day:
we eat breakfast at the hotel (8a)
we head out to a local university or primary school (9:30a)
eat lunch with students (1p)
prepare our English lessons back at the hotel (3p)
head out for class (ride the trolley, hail a car, etc...) (4:30p)
meet the students and have class from 5:30p till about 8 or 8:30p
meet up with the team to have supper (~ 9 to 9:30p)
crash at the hotel (11p)
(repeat)
When we visit a school, a teacher comes and gets 1-4 of us (depending on the number of classes to visit) and takes us to their room. On Friday, when we got to the teacher's room and they had a table with tea, cookies, candy bars, cakes, etc... all spread out on the table. That was cool, they really put on the hospitality. In fact, everybody goes out of their way to make us feel welcome. And they beg us to come back and visit them again. This is really encouraging because, besides the teaching the English classes, one of our main goals is to make students aware of Compas and to build relationships that will benefit both Compas and the students.
Breakfast costs about 3 bucks and you get eggs and ham, yogurt, bread, cheese, juice, coffee, tea, and sausage. The hotel staff is nice and helpful. BTW, the yogurt here is *real* yogurt (aka. it actually tastes good).
When we go out to a restaurant, I am surprised at how much the Russians eat (men and women); they can really put it away. I was talking with one of the Compas staff (aka. Campus Crusade for Christ) and they said a Russian will pick up something in the supermarket and put it back if it does not have _enough_ calories. They not only need to make the most of their money, but they walk to and from the train, from the train stop to work/school, to the market, etc... A lot of walking. With all they eat, I have only seen 1 overweight Russian since I have been here.
We have been so busy that it hardly seems like a week has passed. We have meet hundreds of students and many teachers. It has been a lot of fun and our schedule can be hard, but I would not trade the time over here for anything.
Kseniya, one of the staffers from Ekaterinburg, moved to St. Petersburg this year to get married. She came down from St. Pete by train to visit us; I did not expect to get to see her this year, so it was fun to talk and catch up on everything. She would like to have all of us visit her and Daniel in St. Pete. The church looked at scheduling that route on the return trip, but it did not work. I would like to visit St. Pete, that might be a good non-rev/interline adventure for later.
Please pray for us:
Some of the team had a hard time getting over jet lag and got little sleep, 7 of our team left for home today and 7 more will join with us tonight. So pray for their jet lag and that they can get some sleep this week. The 7 who left today will spend 1 day and night in Moscow (as will I next Saturday). Please pray for safe travel and a fun/relaxing time in Moscow.
I have made some good "connections" in my English class and I got to share a full Gospel presentation in Friday's class. Please pray for the seeds we have sown (in the schools as well as the English classes) and for the seed we will get to sow. Also pray for lasting friendships, even in Dallas we can continue to encourage these students via email and the internet.
Many of the students are atheists or post modern, so pray for an openness to the message.
I know I must have left out 100 things, but I'm trying to regurgitate a week's worth of activity. Hope to post more later. If not, see ya stateside!
Rodney.
posted by iWantToKeepAnon at 11:42 PM |